Pavers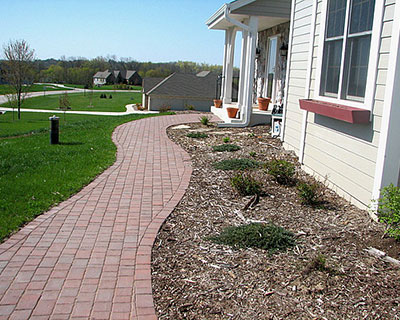 When you are getting your landscaping planned and installed, you want to be sure that it looks great, is functional and long-lasting too. This makes it important to choose the right materials you use in these installations, and pavers top the list in every way.
Frankfurth Landscaping, Inc is a leading company that provides custom paver installation services to customers in and around Sussex, Menomonee Falls, Germantown, and West Bend, WI. They have also built a large customer base across Richfield, Hartford, Brookfield, Hartland, Oconomowoc and Mequon. The different types of materials used in the work are:
Paving Stones
These are slightly larger than standard pavers and are an ideal option for various spaces in your landscaping. They can be used to pave driveways, pathways and walkways and in poolscape settings too. You can choose ones made from travertine, slate, bluestone, flagstone etc.
Patio Pavers
Patios are exposed to the outdoor elements and have to weather the climatic changes. They are also subjected to regular wear and tear and the UV rays of the sun also affect them. This makes it crucial to use high-grade materials in their installation and pavers become an excellent choice. You can choose between ones made of natural stone, concrete or brick.
Concrete Pavers
Concrete is a very strong and resilient material and it's used in various landscape applications. When you opt for concrete pavers you benefit in a number of ways; they are available in a large variety of colors and shades, are low maintenance features that last for a very long time. This is why they are used in patio, deck, driveway, pathways and poolscape installations.
Brick Pavers
Brick is a very appealing material and looks great in landscape settings because it has an earthy and rustic appearance. You can use brick pavers in installations such as driveways, pathways, walkways as well as patios and decking etc. In fact, they look great in outdoor kitchen and pool areas too. Today, brick pavers are available in a variety of colors and styling and that gives you the flexibility to create the kind of look you want in your landscape.
Paver Stones
When you want to get large landscape areas installed you want to be sure that you are using the right materials and paver stones become the perfect choice. They could be made of materials such as bluestone, flagstone, travertine, slate etc. These are extremely long-lasting and sturdy installations that add to the value and beauty of your property.
Driveway Pavers
Your driveway tends to see a lot of use and foot and vehicular traffic can take its toll. When you are getting this feature installed, you should use good driveway pavers- these are very sturdy and long-lasting and you can choose from materials such as brick, natural stone or concrete etc.
When you choose to hire experienced professionals like the ones at Frankfurth Landscaping, Inc, for your paver installation requirements, you are assured that your lawn spaces will look good and stay healthy for a long time.
We Provide Services to the Following Cities, Towns and Surrounding Regions of WI: